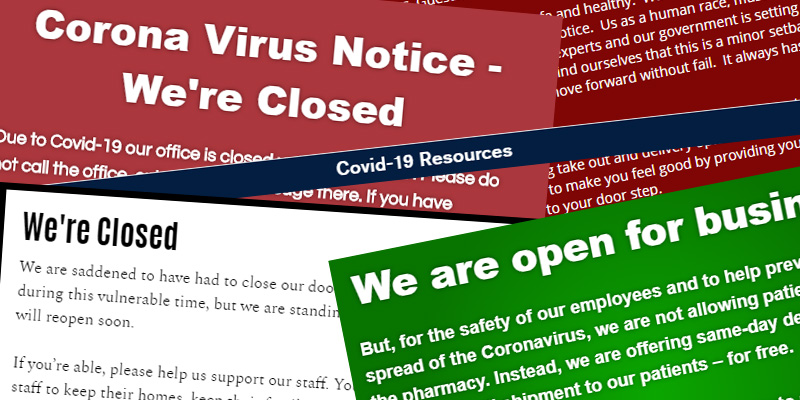 Over the last 2 weeks, we've had a huge influx of clients asking for some kind of notification on their WordPress websites letting people know about the status of their business.
Most of these clients are in-person, storefront, or restaurant type business – so, it's super important that they let everyone know what's going on and letting people know how they're handling the coronavirus
We generally take 2 approaches to this
Notification Bar – this type of message sits either at the top or the bottom of the screen in a full width bar across the screen.
Pop up box – one of those annoying boxes that popups while using the site that has information.
Normally, I would recommend people not use the popup box because they're very intrusive, but they work perfect for this case. A notification bar is also a great choice, but people opt for the popup because it's so intrusive. This message has to get out.
If you're looking to add a COVID-19 update to your WordPress site, here's the plugins we use.
This one is a little overkill, but it works great! If you're looking to add a popup to the site and want a fully featured system, this one is perfect. We've used it in the past for things like newsletter signups, forms submissions, or to direct customers to specific pages. It's definitely one of the best popup plugins out there.
If you're not a coder and want to finely tweak the design, this has a drag and drop editor that's super easy to use to make it just how you want.
If, after the coronavirus has passed, you need something to handle popups, you won't regret having this.
This is like a slimmed down version of Ninja Popups. It still does the same stuff and I prefer it for simple popup needs. This makes it the better choice if you just need to put something up quick with no frills.
At first, when we started rushing these on to clients sites, I used Ninja, but I've since switched to this one because it's faster for me.
The downside is that I am a nerd and can code, so any CSS tweaks are a breeze for me. There's no drag and drop editor here.
This is a notification bar plugin. It's dead-simple and I highly suggest it. It has only a few options and you can't really customize too much – mainly because there isn't much to customize.
It works out of the box – just put in what you want it to say and you're done!